The Modern Mediterranean Cuisine
Savor vibrant Mediterranean-style dishes in this lively, inviting restaurant.
Fresh, seasonal ingredients influence the oft-changing menu. Begin your meal with crispy borek, marinated deep fried baby squid  and a secret recipe sausage cooked in the oven. Then, delight in mouthwatering specialties like braised veal shank, pan-fried chicken and oak-grilled filet of beef.
For a sweet ending, indulge in such decadent desserts as warm chocolate-fudge cake, cheesecake and  crème brûlée.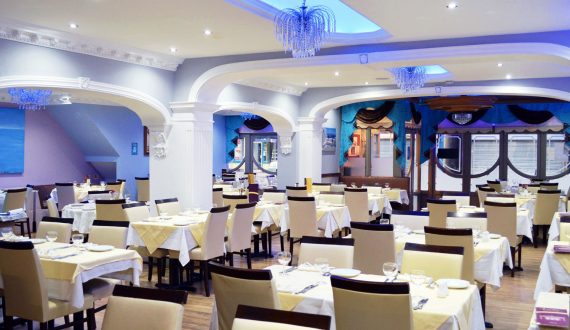 Venue
Our venue is excellent for corporate, farewell parties and social drinks or private parties with a specific set theme (i.e. hen nights, Halloween, Christmas parties, Valentine's Day and Mother's day celebrations), product launches and professionally targeted PR events for groups from 12 to 120. We feature two private event spaces perfect for any occasion, as well as the option to book the entire restaurant. Menus range from passed appetizers and cocktails to our signature shared menus for seated dinners.
Reservations are recommended and can be made up to 180 days prior to your visit.
For more information on our diverse private dining and event options, please contact at  01322558884 or click the link below.
High-class hospitality and never-done menu
Turkish hospitality has an ancient history: one that is inextricably linked with friendship, cuisine and libations. Every dish at Assos has it's own story from the traditional recipes direct from it`s root, to modern updates that tell the history of our team, of our cooks and chefs who have left their mark on our kitchen, and our serving staff and managers who have been ambassadors of hospitality. Our menu is never done – we find inspiration all around, in new ingredients, new approaches, and fresh takes on old standards.