Whatever the event, celebration, dinner, any special occasion, all the ingredients for success are here; beautiful natural surroundings, easy accessibility, and most important, superb cuisine. We can accommodate any special occasion with seating up to about 120 persons.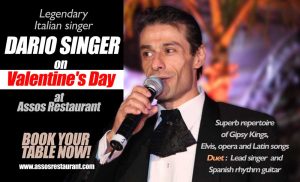 An evening with Dario Singer on Valentine's Day 2018
Live Music starts from 7.30 pm
Dario Singer is a Latin style performer whose bulk repertoire is Gipsy Kings and modern Latin and for a more complete night of entertainment he can include pop, dance, rock & roll (Elvis) opera and modern Arabic (Amr Diab). he is fluent in 4 languages and can sing in six and as well as sing he can play blues harmonica and Spanish rhythm guitar.
Performing as duet comprising Dario plus 1 guitar player. They are going to play 3 and half hours of music, usually divided in 3 sets but they don't have rules for this.
↔ ↔↔↔↔↔
Calli Malpas Live Jukebox
Wednesday, 6 December 2017 at 19:00 –23:30
and
Thursday, 21 December 2017 at 19:00 –23:30
The fantastic vocalist, Calli Malpas. Those of you who have been lucky enough to see her play before, either with her band, at one of her open mic nights, or as a solo artist will know why we've snapped her up.
Come on down to Assos that night for a perfect live jukebox (performing best pop, soul and dance anthems) end to the weekday, live music starts at 7:00pm, would love to see you there.
New Year's Eve 2017 at Assos
Live music with BARRY FOX starts at 8.00 pm and finishes at  1.00 am on New Year's Eve Night. Covering variety of different types of music guaranteed to get your foot tapping and your voices singing!
We are offering a set of 3 courses meal for £65 per person, with 5 choices per course (see the menu)
JUST SOME OF THE MATERIAL PERFORMED BY BARRY
FRANK SINATRA – FLY ME TO THE MOON
DEAN MARTIN – THAT'S AMORE
BOBBY DARIN – SOMEWHERE BEYOND THE SEA
ELVIS PRESLEY – WONDER OF YOU
FRANK SINATRA – LADY IS A TRAMP
MICHAEL BUBLE – HOME
ELTON JOHN – YOUR SONG
NEIL DIAMOND – CRACKLING ROSE
FRANK SINATRA – COME FLY WITH ME
DEAN MARTIN – EVERYBODY LOVES SOMEBODY SOMETIME
ANDY WILLIAMS – TOO GOOD TO BE TRUE
NEIL DIAMOND – SWEET CAROLINE
BOBBY DARIN – THINGS
ELVIS PRESLEY – JUST CANT HELP BELIEVING
DEAN MARTIN – AINT THAT A JACK IN THE HEAD
RINGO STARR – YOUR 16
FRANK SINATRA – BAD BOY LEROY BROWN
MAVERICKS – DANCE THE NIGHT AWAY
BOBBY DARIN – MAC THE KNIFE
JOHN PAUL YOUNG – LOVE IS IN THE AIR
ELVIS PRESLEY – SUSPICIOUS MINDS
FRANK SINATRA – UNDER BY SKIN
BILL HALEY – SHAKE RATTLE AND ROLL
DEAN MARTIN – LITTLE OL WINE DRINKER ME
UB40 – KINGSTON TOWN
DEAN MARTIN – GENTLE ON MY MIND
MICHAEL BUBLE – EVERYTHING
STEELERS WHEEL – STUCK IN THE MIDDLE WITH YOU
DEAN MARTIN – MEMORIES ARE MADE OF THIS
FRANK SINATRA – MY WAY